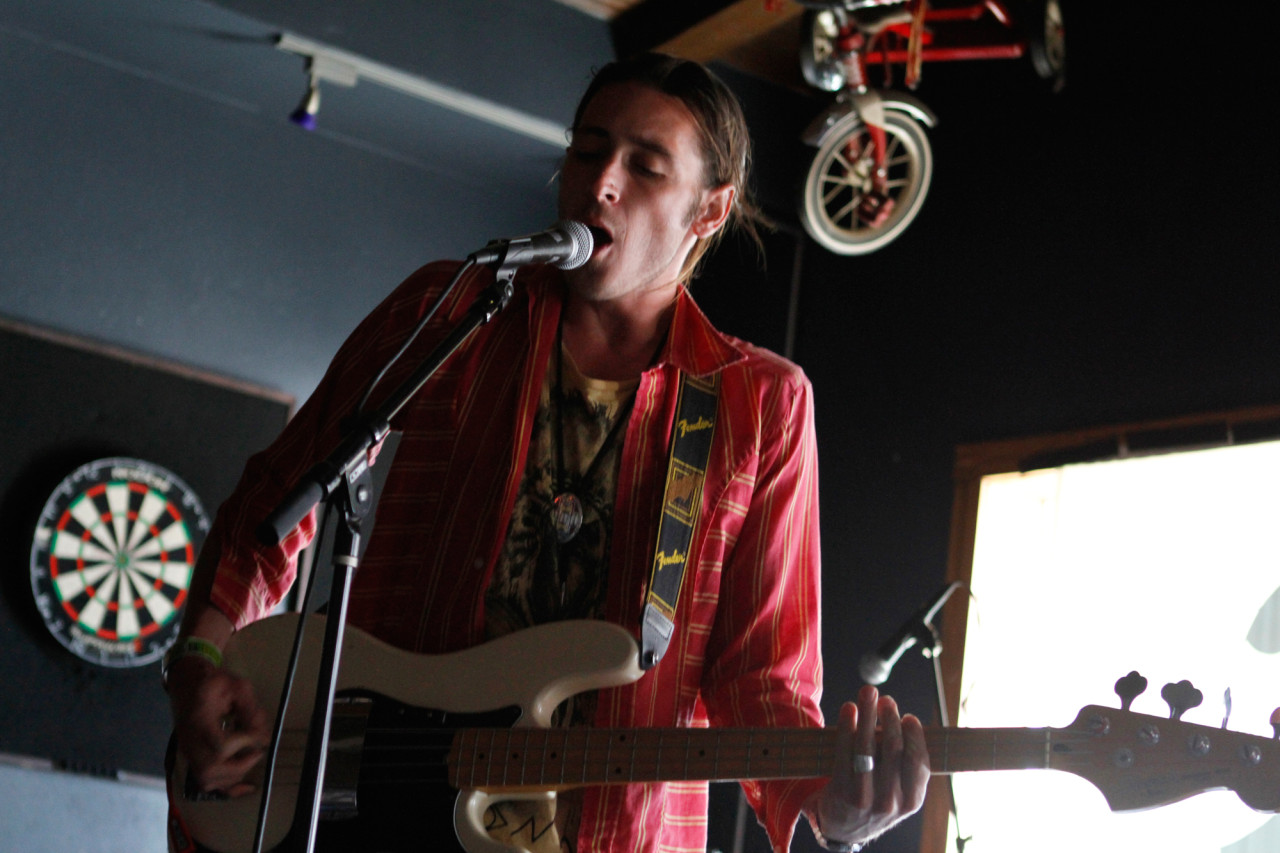 Wednesday at South By Southwest was my first day for day parties — the events thrown by labels and PR firms, blogs and magazines, and mega-companies trying to sell you a new flavor of chips or energy drink. While not officially part of the SXSW lineup, day parties are a great way to bounce around to multiple venues and see a bunch of young bands perform, and/or make do with shoddy PA systems in spaces not meant to be music venues.
With a well-mapped out schedule, it's possible to squeeze in 2-3 bands into an hour, especially when some parties have multiple stages of simultaneous music. If you are someone who comes prepared with a wish list of artists, daytime shows are one of best ways to try something new — such as brash punkers Paws, the theatrical Parenthetical Girls, or the dreamlike electronic pop of Braids — before heading to a major showcase with bigger headliner-type acts.
It's always interesting to look at the small, more workmanlike venues of day parties — bars and clubs, bike shops and pizza joints — and the large-scale showcases as an excellent window into the trajectory of some bands.
Here's a couple highlights from the shows I saw on Wednesday at SXSW:
YEAH YEAH YEAHS @ NPR Music Showcase at Stubb's B-B-Q
In a night full of excellent music — from Nick Cave and the Bad Seeds' sinister and stunning set to Le1f's stripped down hip hop to Waxahatchee's stark punk-infused folk songs to the Mexican rock of Cafe Tacvba to the majesty of Alt-J's pop — it was Yeah Yeah Yeahs' powerful performance at NPR Music's showcase at Stubb's that appeared to be the biggest shows of the night.
Platinum blonde and decked out in a colorful and sparkly yellow outfit, and wearing an oversized headlamp, it's impossible to deny the stage presence of Karen O. She's a true rockstar whom you simply cannot take your eyes off of as she writhes on the floor, gazes out to the front of the stage and twirls the microphone way above her head in the air. And in a set that pulled heavily from its back catalog, and the new song "Sacrilege," this was one of the best and most commanding performances I've seen in a long time. It's not hyperbole to say this was truly an all-time top ten show for me.
WILDCAT! WILDCAT! @ Side Bar
Despite having some gear stolen — which let's be honest, is a horrible way to begin any gig — and starting its impossibly early noon set late as a result, Wildcat! Wildcat! still managed to impress. On its original songs, the Los Angeles-based band's soaring vocal harmonies were set atop layers of synths creating a solid indie-pop sound. And yet it was a superbly chosen cover of Tears For Fears' hit "Everybody Wants To Rule The World" that won over fans.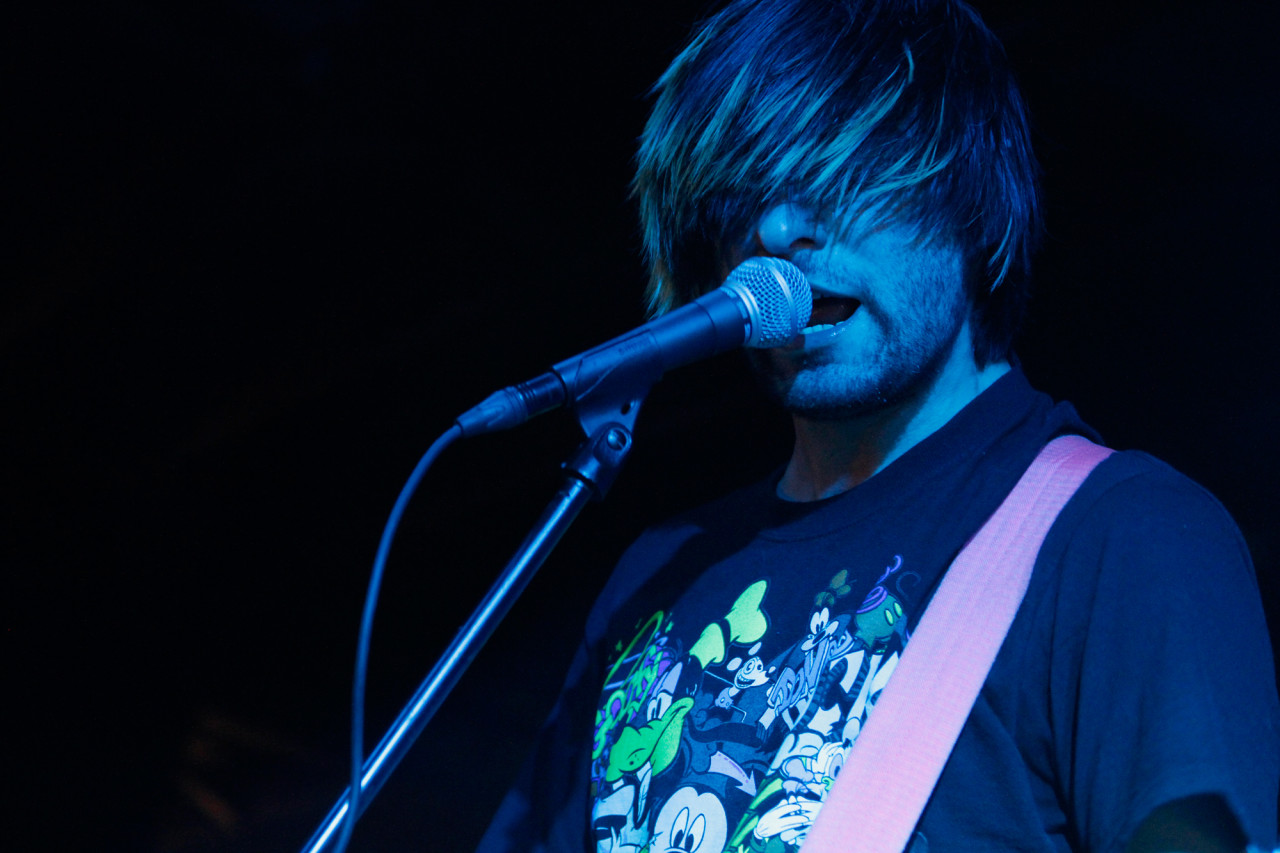 PAWS @ Red 7
This year has had no shortage of brash punk bands and grimey hardcore bangers — from returning bands like Cloud Nothings and Wavves to up-and-comers like Parquet Courts and Metz. But the raucous pop punk of Scottish trio Paws has a way with infectious hooks and some cathartically thrashy guitars. These songs are short bursts of energy, wasting little time winning me over.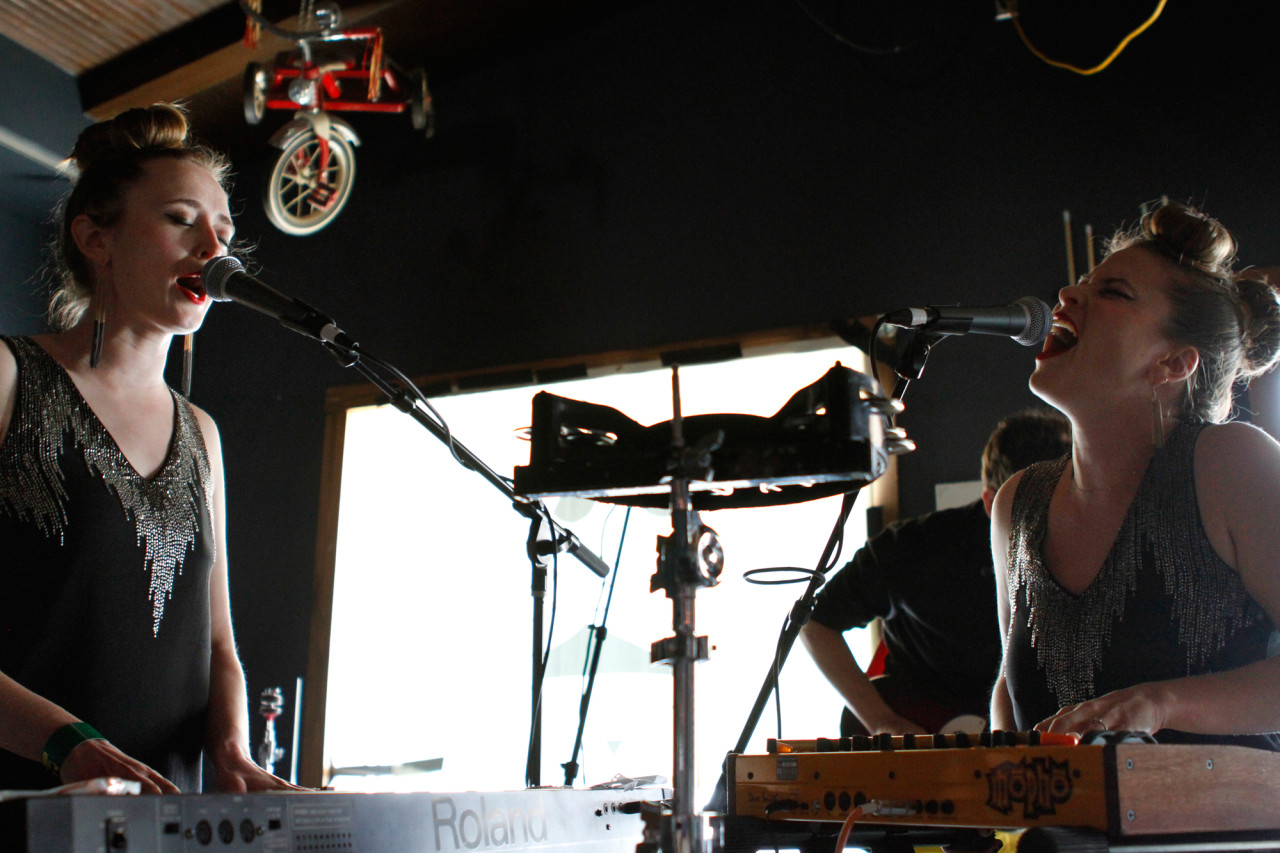 LUCIUS @ Side Bar
Coincidentally, another new favorite band, Lucius, performed at the same venue right after Wildcat! Wildcat!. Lucius is instantly joy-making, even before you hear them play, thanks to the band's matching black shirts and yellow pants or leggings. But as soon as you hear the band's catchy songs — such as "Don't Just Sit There", it's impossible not to get caught up in the band's charming pop songwriting. With the vibrant, almost '60s girl group vocal harmonies from Jess Wolfe and Holly Laessig and the guitars and thundering floor toms and backing vocals of Danny Molad, Peter Lalish and Andrew Burri, Lucius delivered a short but endearing set that will have me seeking the band out again soon.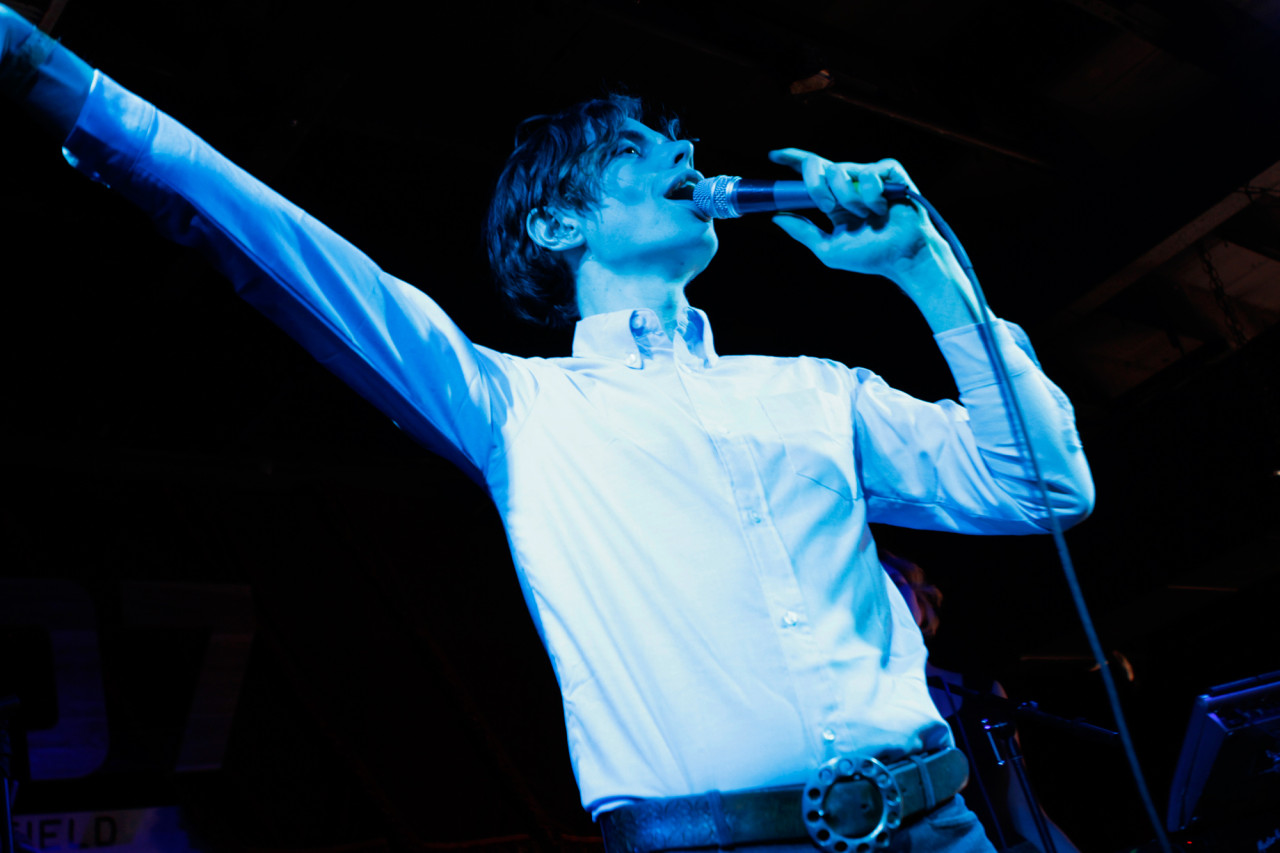 PARENTHETICAL GIRLS @ Red 7
Much in the same way Nick Cave or Yeah Yeah Yeahs' Karen O showmanship dominated their stellar sets at Stubb's, singer Zac Pennington, of the dramatic art rock band Parenthetical Girls, has a charisma you cannot take your eyes off. Pennington is incredibly theatric on stage, flailing arms around, climbing on speakers, staring directly into audience's eyes. Even on a far smaller stage than Cave played on, Pennington connected with the crowd just like a star.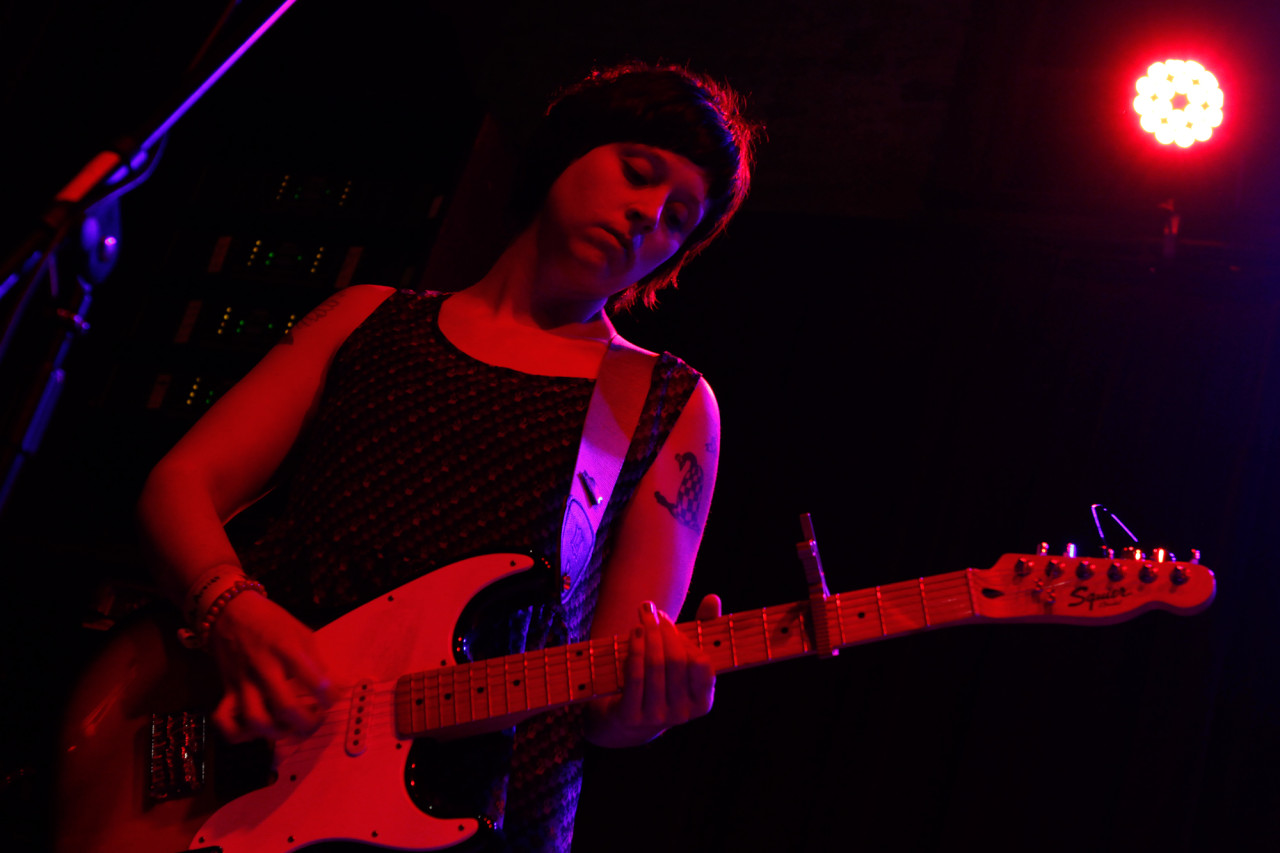 WAXAHATCHEE @ Stubb's BBQ
Katie Crutchfield's music is so deeply personal and confessional that you sometimes feel as if you're intruding. But her songs are also incredibly universal and heartfelt. Playing newer material like "Hollow Bedroom" and the distorted "Coast To Coast" show that Waxahatchee — now a boisterous three-piece — has begun to plug in and rock. And it never sounded better.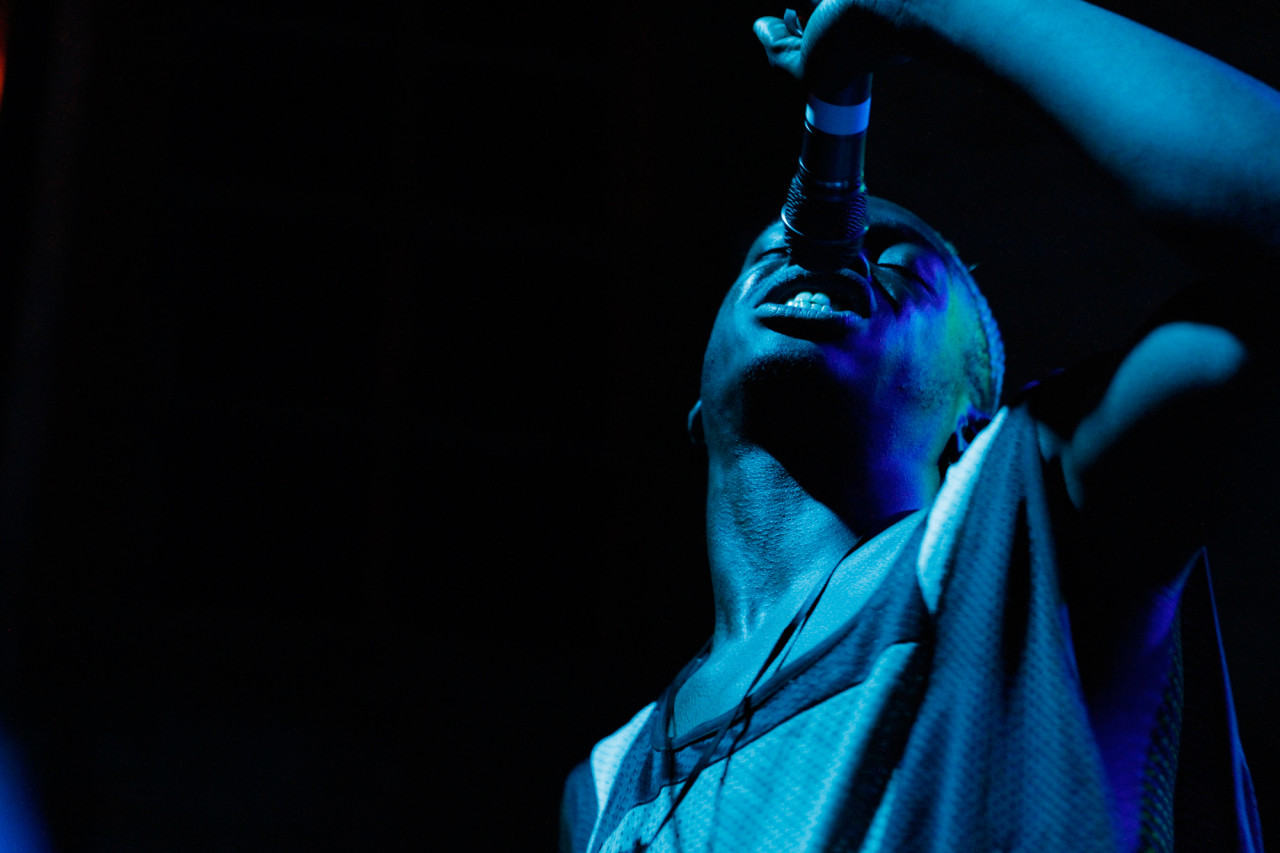 LE1F @ Stubb's BBQ
Watching Le1f perform live at Stubb's, it's clear you're witnessing something unique. The magnetic New York rapper commands the stage with choreographed dance moves and wild body gesticulations, often culminating with Le1f taking down his long hair and whipping it around in a cyclone of braids — all while spitting his idiosyncratic deep-voiced wordplay without skipping a beat. It's all the more impressive because Le1f (born Khalif Diouf) takes his performance as seriously as his rhymes: he studied ballet and modern dance, earning a degree in dance from Wesleyan University; he's a fashion icon with a so-called "hoodrat Tumblr aesthetic;" and he's known in the LGBTQ community for being both out and proudly outspoken.
Now, following the unreal success of his "Wut" music video, and a stellar mixtape — 2013's Fly Zone (another EP, Tree House is due in Sept.) — the MC and producer seems poised for a major breakout in 2013 and 2014. Le1f's dance-ready music is edgy and experimental, mixing dark electronic tracks with big beats and rapidfire phrasing. And while the production is always ambitious and borders on the avant garde, these songs will still get you moving on the dance floor in a hurry.
Here's a few more photos from the day and night: