It's been about a year since Wye Oak's very fine album Civilian surfaced on my "Best Of 2011" list. And while the Baltimore duo has remained somewhat dormant lately, they've hardly sat on their hands. Jenn Wasner, the band's singer and guitarist has been especially busy, performing, writing, and teasing us with new music from her solo project Flock Of Dimes.
I had a chance to catch Wasner performing as Flock Of Dimes at Washington D.C.'s Black Cat Backstage, where she debuted and road-tested a batch of new songs. Some of these songs were so brand new, she told us, that they were only written in the last week, or, in one case, the lyrics were finished on the ride from Baltimore to D.C. that day. Alone on stage with simply her guitar and a laptop playing densely layered pre-recorded backing tracks, it was like catching a comedian try out brand new material and seeing what worked in front of a live audience in some tiny club.
As a huge fan of Wye Oak, it was one of those special, intimate shows that demystified some of the creative process of a musician pushing out of a comfort zone and into uncharted territory.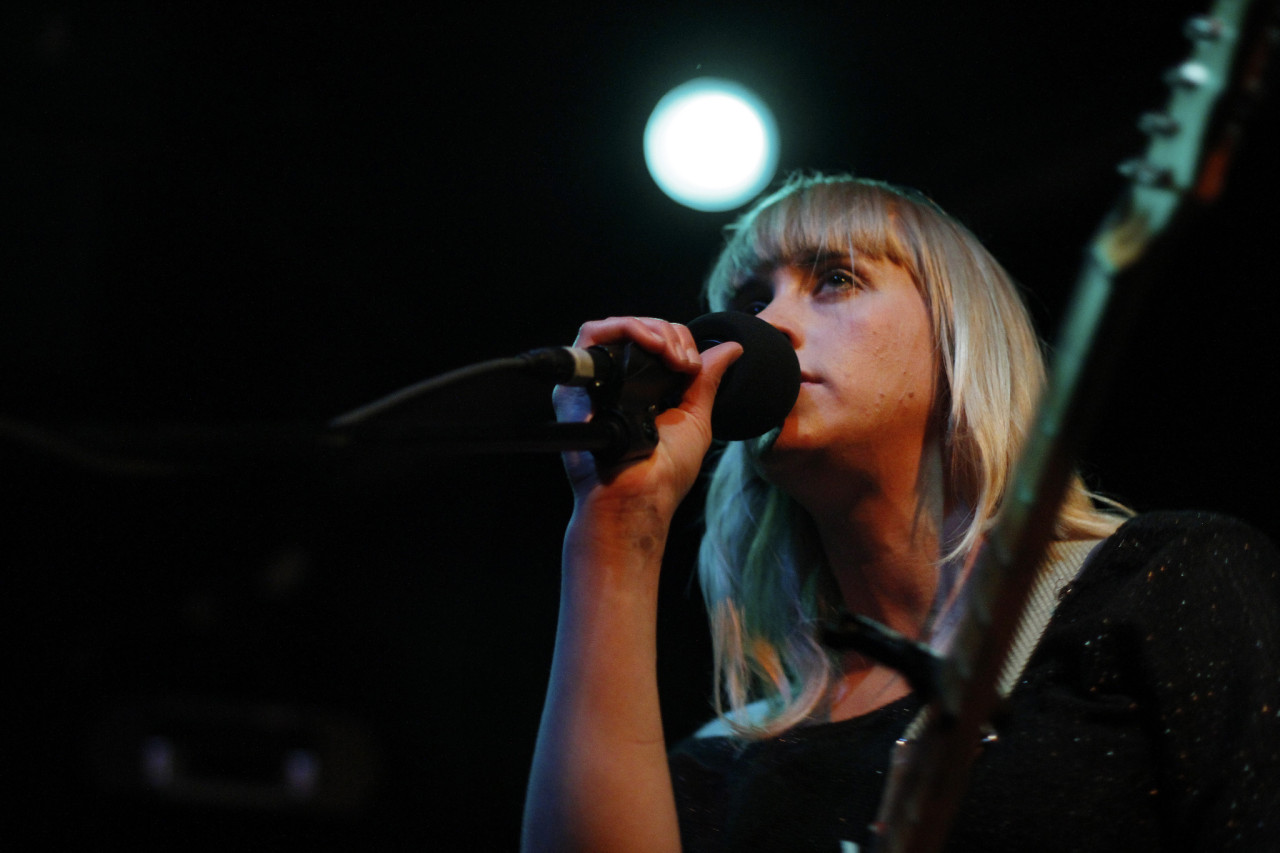 UPDATE (11/28/2012):
All these months later, it's been exciting to see that much of that music from this show from early February is beginning to see the light of day. Flock of Dimes has released a handful of those songs as singles and B-sides: "Prison Bride", "Curtain" b/w "Apparition", and, just last week "(This Is Why) I Can't Wear White" b/w "15". All these songs have displayed a different side to Wasner's music with Wye Oak, more focused on those blankets of guitars and synths, choppy electronic drums, and of course, her beguiling voice.
Now, yet another side project has been announced: Dungeonesse, a sparkly dance pop collaboration with Jon Ehrens of White Life. And based on the first single, "Drive You Crazy," Dungeonesse promises to further evolve what we've come to expect from Wasner or Wye Oak. Gone is brooding guitar distortion and washes of noise. In its place, there's plenty of carefree pop hooks, shimmering synths, and a club-ready R&B groove that sounds straight outta the early 90s. Wasner's voice also remarkably fits into this song's silky smooth surroundings.
If these new songs are any indication of where Wasner or Wye Oak may be heading, I can't wait to hear what's next.